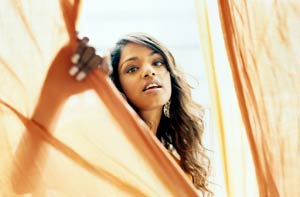 Sike! No exclusive mp3s from M.I.A., just a bad lead-in to explain Push Play's wacky schedule during March. Push Play hasn't been fully present during the month for some legitimate reasons: 1) Jenny from the Cocktail Hour's B-day 2) Stupid sickness. For a week, my voice dropped some decibels, making me sound like I drank too much whisky and smoked too much. That was the only cool thing about being sick. The rest of it sucked because you hibernate like a bear and piss like a racehorse. To make up for the sickness, I put together some quick audio productions for the show. If you have tuned in, then thank you because you've been hearing some crazy skits, which I hope to continue.
Thanks to those Insurgents for throwing a kick-ass third Friday/St. Patrick's day bash, and letting yours truly sing at the end of the night. Big thanks to the KRUA posse who made it out that night as well. Earlier that night at the Lucky Monkey, the Anchorage Free-Pop Festival was put on by The Moon Knights. It was a great way to start the night. Prior to Friday, thanks to everyone who put up with my djing/singing Thursday night at LM. I was told to turn the music down three times. Yeaahh!!! Mocha Momma will be djing for KRUA at Lucky Monkey this Thursday from 8-11 pm.
During Spring Break, I'm catching up on some movies.
Dave Chappelle's Block Party is one of my favorite films of the year. It helps if you dig Chappelle or the artists in the concert, but if you like good cinema then you'll like it. If you haven't seen it yet, contact me because I wouldn't mind seeing it again. V For Vendetta was alright, but I'm biased since I read the graphic novel. It's an okay adaptation, but some things didn't translate well. Despite some flaws, any film with revolution is worth the admission. Worthy rentals on DVD [Netflix account & Mom & Pop's video store are where I rent]; Broken Flowers, Down By Law, Lord of War, The Squid and the Whale, and The Constant Gardener. Dvds from the library [Ha! They have more stuff than books. Seriously, their Criterion Collection and foreign film selections are deep.]; Thesis, Nights of Cabaria, and Jules et Jim.

As for this week's Push Play, expect a more healthy host to return with material you love to hear.